Pharmaceutical
Highest level of purity for fine chemicals and the pharmaceutical industry
High-purity vessels and reactors and the meticulous operation of equipment are essential conditions for processes in the pharmaceutical industry It is here that our engineers excel with the highest level of competence. Beyond this, our polishing and electro polishing methods guarantee the best surface treatment for highly sensitive products. Highly modern production methods and machinery, perfect surface treatment and a comprehensive customer service make our plants unmatched in cost-efficiency, also in the long term.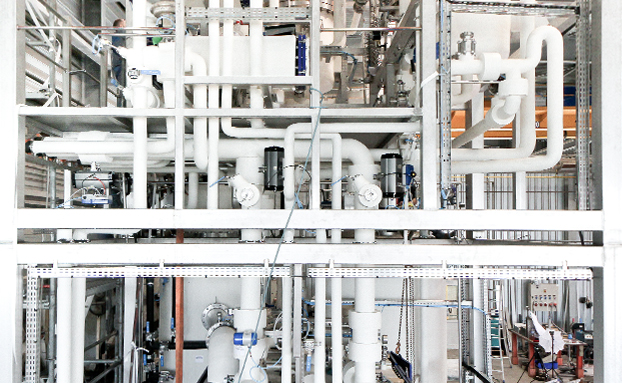 We offer a global approach for the pharmaceutical industry:
Sterile reactors and fermenters
These vessels are designed according international standards in compliance with GMP, FDA and PED 97/23/EC rules.
Turnkey separation skids with optimized temperature control
 The efficient solution
Our skid monofluide temperature regulating units control the temperature of the reactor or the condenser with a single circulating thermal fluid (water containing glycol or organic fluid) which is regulated on its part by exchange with the main fluids (liquid nitrogen, water containing glycol, water, steam) or using an electrical heating device. The skid monofluide complies with the regulations of the PED pressure Equipment Directives and ATEX.
Sterile reactors                                                                       Mobile sterile vessel
Synthesis turnkey unit
Thermipack®, an innovative multitalented concept.
Thermipack® is a tower including inside one vessel, a condenser, a post condenser, a decanter and a separation step with storage for heavy solvents.
Thermipack® only requires a quarter of the space needed for a conventional design.
Thermipack® is also the perfect technical / engineering solution for retrofitting of existing plants